Freelancing is changing the world. It is the new trend where people (hired as freelancers) do not have long-term agreements with their employers. Freelancers sign up for a job, get it completed, receive the payment, and then are done. Read further to know about the top 5 freelancing websites out there.
How do these websites work?
Freelancing websites cater to people who can work online, submit their work to the employer, and earn from it. If you are someone who deals with online products, freelancing will be quite suitable for you.
You can also apply if you want to hire someone for a specific job. There are provisions for those who want to hire someone for some job. Usually, freelancing consists of jobs or tasks, which have to be done by professionals just once, or less frequently.
One can apply as a freelancer or hire freelancers for their jobs. In this article, we will be discussing the top five freelancing websites where you can apply and get a job.
Top 5 Websites for Freelancing
1. Fiverr
Fiverr is the most preferred website for freelancing of all time. It is the most popular website for freelancing nowadays.
URL – www.fiverr.com
Fiverr is trending quite well these days. You just have to visit the link and create a free account. After this, you will be guided by the website user interface, about how you can set up your account and create your gig.
2. Freelancer
URL – www.freelancer.in
Freelancer.in is another popular platform, where one can apply as a freelancer/employer and interact with related parties about jobs. You have to create an account first. After successfully creating an account you can view all the jobs available on the platform, and apply for the which suits you.
3. Upwork
URL – www.upwork.com
The majority of people when looking for freelancing jobs or workers choose Upwork. It is a good platform for freelancing as it provides a lot of options. Upwork is rated 4.5 out of 5 stars because of its clean interface and accesibility.
Here is how Upwork works –
(i) Post a job
(ii) Receive bids
(iii) Collaborate with clients
(iv )Make the payment
You can create a free account and you will be guided systematically, about how you can post a job or find the right person for a job that you want to offer.
4. Peopleperhour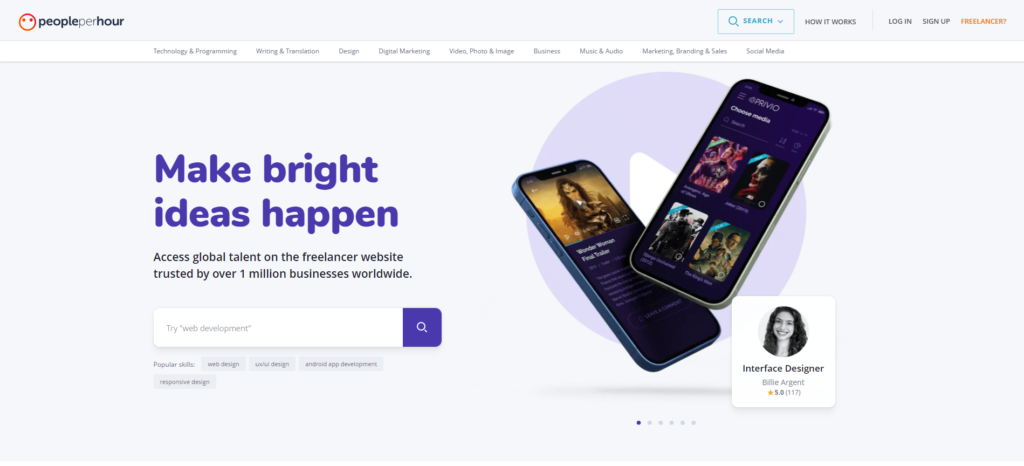 URL – www.peopleperhour.com
Another freelancing platform, which provides all the services a freelancer or an employer needs.
5. Toptal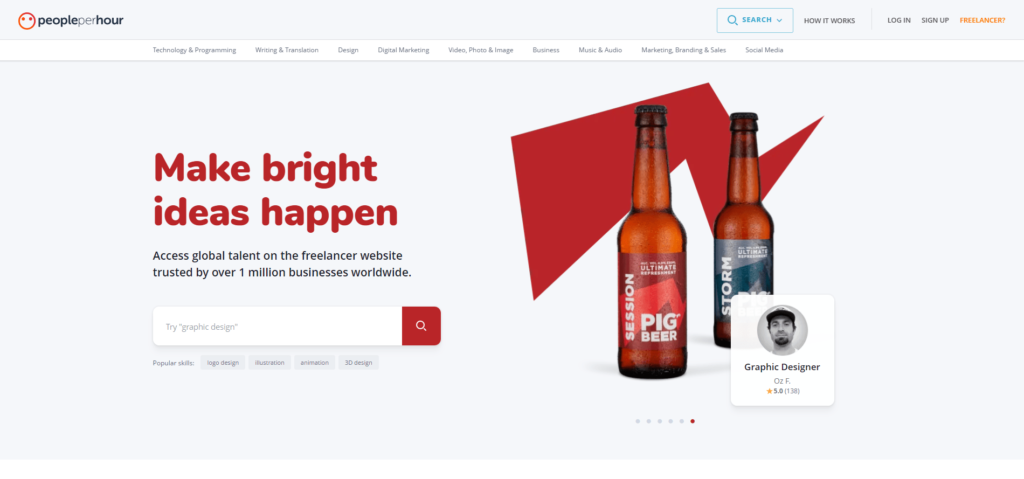 URL – www.toptal.com
Toptal is a quite powerful platform where you can interact with people and get your services.
Mention your favorite freelancing websites below in the comments section. Also, share your experience if you have any. Want to know what is freelancing? Click on this link to learn more about freelancing basics.
Have any questions? Write an email!